Process
From Our Showroom to Your Home!
Selection
With our New Showroom open (see contact page for hours of operation) it allows clients to view Quartz stone samples inside with the help from one of our sales staff. We encourage our customers to bring in samples of cabinetry, tiles and backsplash or anything that may influence their colour choice. This allows clients the opportunity to narrow down their choices and pick out granite samples for them to take home. Viewing the samples in the actual space, will give a better idea of what the granite will look like in their lighting among all the factors that may impact their decision. There is a large difference between viewing a sample of granite and having the opportunity to view the actual slab that will be turned into a new countertop. We encourage all our customers to peruse granite slabs and view quartz samples before making a final decision.
---
Quote
It is our preference that customers bring in a drawing or measurements for their design so we can assist them with pricing. When customers provide a drawing or measurements it allows us to assist them with finding granite that suits their price range. Our sales staff is always happy to provide a price for as many choices as possible. If a customer has many choices in mind we can provide a price for all choices and possibly help to narrow down the selection.
Pricing is always based on the square foot area that will be covered. Included in this price is the template performed by one of our installers, 3 Standard Edge Profiles, sink and faucet cut outs and installation.
Customers also have a choice of 7 Upgraded Profiles, which will increase the quoted price, as well as a selection of reasonably priced under mount sinks. Samples of both edging and our most popular sinks can be viewed in our showroom. You may view our edging options at the bottom of this page as well. Our selection of sinks may be viewed at the Bristol website, www.bristolsinks.com.
---
Deposit
Once the granite has been chosen and a quote has been accepted by the customer, we are ready to move on with their project. Using the measurements and pricing provided for the quote we ask customers to provide us with a 50% deposit. This assures that a template for the job will be preformed within a couple days and also holds the slab the customers have chosen.
---
Template
A template for your job is completed by an installer of TNT Tile and Marble, who will visit the customers' home and take exact measurements of the space. He will also survey the area in the home with regards to positioning of entrances and narrow hallways, this will assist him when laying out the granite and allow him to verify if your counter will need seams or if it can be completed in whole sections. We also ask that at this time customers provide us with the template for their sink, if it isn't purchased through us, as well as information about the faucet that will be used. With the template complete TNT Tile and Marble tries to complete installation 10 business days from that date. However with the restrictions of COVID-19, that timeline has increased to 15 – 20 business days for the time being.  During the template process it is possible for plans and designs to change, due to suggestions made by the installer, customers design changes, as well as mistakes in the original quoted measurement. If square footage increases dramatically customers will be informed and must approve a price increase before the project will continue.
---
Fabrication
Once the template is completed the measurements and drawings will be used to cut the design out of the slab you have chosen. Once the design has been cut, our fabricators will use hand tools to finish the edge profile specified by the customer and cut and finish the sink hole with the template given or specified. The design is now ready to be installed in the customers' home.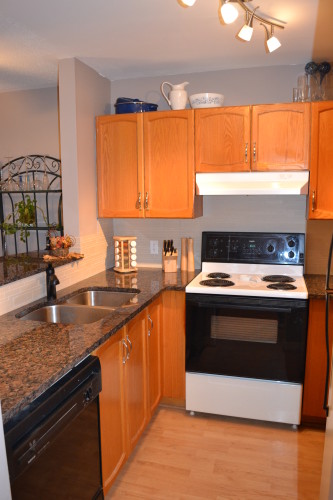 ---
Installation
For Installation, a staff member of TNT Tile and Marble will contact the customer and an appropriate day and time will be worked out. The finished pieces will be brought over by our installers on that date. Once the pieces have been brought into the house and put in the proper place any seams will be connected using an epoxy colour match which gives a hard, flat seam between the two pieces. The sink will be attached using silicone unless otherwise specified by the customer. In some cases plumbers prefer to attach the sink themselves after installing and reconnecting the faucet. Once all is completed and the customer has verified the job all that is left to do is settle the remaining amount on the invoice. At this time when our customers are pleased with the completed product we encourage them to show off the work to their friends and family. References are always appreciated!
Click Here to view Granite Countertops Profiles