Ottawa Granite Blog & News
The Best Kinds of Countertops Ottawa Homeowners Can Have
Building and designing your kitchen will never be complete without the premium quality countertops Ottawa homeowners love to have. There are several materials to choose from, each offering distinct benefits for you to have the healthiest, cleanest, and most visually-pleasing kitchen. One material you can try is granite, which is an extremely durable natural stone that ranks second on the hardness scale, preceded only by diamonds.
Granite is usually imported from Europe, Brazil, and Africa, regions which are rich in natural stone. The material comes in hundreds of colors; the most popular ones, however, are neutrals like beige and brown that match wooden tables and cabinets well. Moreover, no two pieces of granite are exactly the same, thus providing an interesting design element with various shades and textures uncommon to other materials. This is definitely the right choice for those who want to make a statement with their kitchens.
Homeowners will also be glad to know that granite fares well against surface impact that causes chipping and cracking. In addition, it has an excellent surface for rolling out pastry dough. It has excellent resistance to scratches and stains, as well as the ability to withstand the heat from pots and pans fresh off the stove. It is also easy to remove dirt and grease from granite, as long as it is cleaned immediately after meal preparation and it regularly undergoes sealing.
Given Ottawa's high standard of living, residents can easily access efficient kitchens with modern designs. Despite granite's international appeal and outstanding features, some reliable companies offer this material at an affordable price. A company like TNT Tile and Granite, Inc. has a slew of granite countertops Ottawa homeowners will love.
Quartz or engineered stone is another option for homeowners looking for durability. This material—also one of the hardest minerals in the planet—is scratch- and heat-resistant with minimal maintenance needs. Available in a variety of gem-like colors, this material also has anti-microbial properties that only strengthen its position as a go-to kitchen countertop material. Quartz also doesn't require annual sealing like other types of natural stone.
Granite and quartz are only two great countertop options for your cooking and dining area. If you are still undecided on the best material, discuss your options with a few experts on these matters. Working with the right designers, contractors, and providers of quartz and granite Ottawa countertops will allow you to come up with great ideas for your renovation, bringing you one step closer to your new and improved kitchen.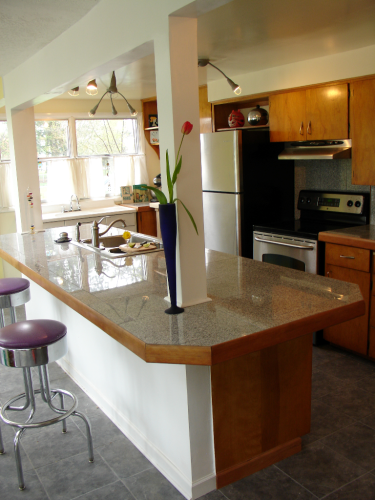 http://morguefile.com/archive/display/178890
Photo courtesy of Morgue File (http://morguefile.com)
Photographer/Owner: kakisky


Video Owner: KudzuTV